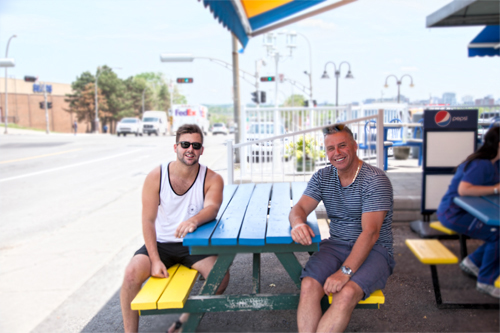 Founded in 1982, the Pataterie Hulloise quickly became one of the most renown pataterie in the Outaouais. Purchased in February of 2008, by Mr. Richard Rivers, la Pataterie Hulloise continues to live up to its reputation.
With its new trendy design, coupled with an outstanding team, at La Pataterie Hulloise it is always a pleasant experience to eat on the premises; either inside, on our new terrace, or even a take out.
Come and enjoy our special of the month. Don't forget to ask for your fidelity card wich grants you a free meal of 10$ or less after buying 10 meals. We also offer a 10% discount for elderly people. We have 10$ and 15$ gift cards!. We also made some additions to our menu while retaining all your favorite items, such as our famous brown gravy. Our delicious golden french fries are fried in canola oil with no trans fat. We also encourage the local economy by using fresh local produce. Our commitment is to serve you only the best. Your satisfaction is our priority. Our efficient and courteous service will make your visit a memorable one. Our new concept: Create your own poutine ensures an even more interesting experience. Trying it is adopting it!